The Jungle Setting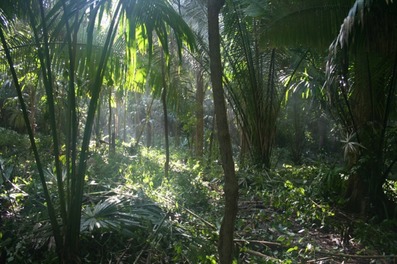 A collection of mahogany, ceiba, and allspice trees along with cohune and majestic palms and a host of smaller plants cover the site core with a lush jungle canopy. In this coverage live a range of animals including three known troops of howler monkeys, agoutis, a wide variety of butterflies and birds including woodpeckers, mot mots, toucans, and humming birds.
As much of the area around the site has been cleared for development (see below) the site is now becoming a refuge for many animal species. Spider monkeys, which have not previously be seen at Ka'Kabish made their first appearance in 2014 and have been reported regularly since then. The site is also now home to a variety of
bat species
which are important for agriculture for both pest control and pollination,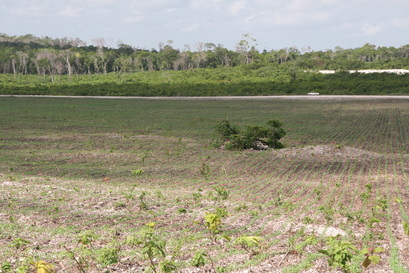 Regrettably, much of the area around the site had been cleared in the recent past for agricultural purposes, a process which is still on-going.
The cleared areas are now used largely for cane farming and cattle grazing. This type of activity is detrimental to the rainforest, specifically in terms of regeneration as the current practice of land clearing leaves little in the way in tree-lines which would allow for forest recovery and provide a barrier to
erosion
.
This land clearing highlights an important gap in the archaeological research of the area. In instances, where no mounds were present, this type of clearing has revealed evidence for ancient domestic houses. These non-mounded residences form the remnants of the houses for the otherwise "invisible Maya" and demonstrates the amount of information that still needs to be recovered about the history of Belize.