Current Staff Members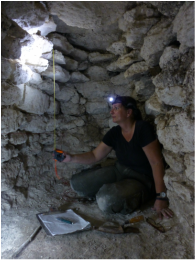 Dr. Helen R. Haines
Project Director
http://www.trentu.ca/anthropology/HelenHaines.php
info@kakabish.org
Dr. Haines is currently an Assistant Professor at Trent University, and a Research Associate at the Trent University Archaeological Research Centre (TUARC). She obtained her Ph.D. from the Institute of Archaeology, University College London, England, in 2000, where her dissertation focused on the socio-political and economic importance of obsidian in ancient Maya society. She has several publications out, including a recent co-edited book
Adventures in Eating
from the University of Colorado Press. She is always happy to give a tour of Ka'Kabish, and equally happy to discuss the site and the work over a good G&T in the Lamanai Outpost lounge.
---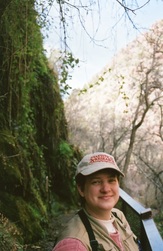 Dr. Kerry L. Sagebiel
Laboratory Director & Ceramic Analyst
Dr. Sagebiel earned her B.A. from the University of Texas at Austin and her M.A. and Ph.D. from the University of Arizona. Her dissertation was an analysis of the ceramics from the site of La Milpa, Belize. She has been a ceramic analyst and laboratory director for several projects in Belize and Guatemala. After a number of years working in cultural resource management in the Southwest United States, she is looking forward to continuing research in the Maya lowlands.
---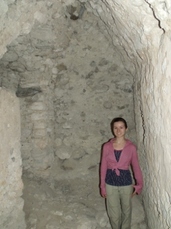 Cara Tremain
Field Director

Cara is originally from Essex, England and did her BA at the Institute of Archaeology, UCL London, where she studied with Dr. Aimers. Her Master's thesis, completed at Trent University in 2011, focused on the impacts of looting and what can be learned from the damage left behind. She spent the 2010 summer mapping the architectural sequences of the major temples (D4 and D9). Her other interests include ancient Maya adornments and dress and she is currently a doctoral candidate at the University of Calgary. Cara was the most fashionable member of 2010 team and loves to wear pink.

---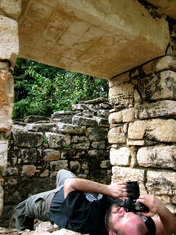 Dr. Christophe HelmkeProject Epigrapher
Christophe's primary research interests are Maya archaeology and epigraphy. Other interests include ancient Maya cave utilization, household archaeology, Mesoamerican writing systems and rock art, as well as Amerindian mythologies. The majority of his fieldwork has been undertaken at a variety of surface and cave sites in Belize, but he has also partaken in excavations in France and Japan. At present he is the director of an epigraphic and iconographic documentation project operating in the central Maya lowlands and central Mexican highlands. Christophe is currently working at the Department of American Indian Languages and Cultures, Institute of Cross-cultural and Regional Studies, University of Copenhagen, Denmark.
---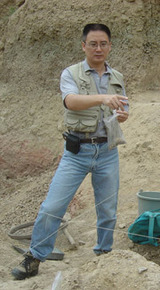 Dr. Chen Shen Consulting Lithic Analyst
http://www.rom.on.ca/collections/curators/shen.php
Dr. Shen is a Vice-President at the Royal Ontario Museum where he is in charge of the Department of World Cultures. He is also a Senior Curator at the Museum, and holds the Bishop White Chair in East Asian Archaeology. Although currently his research focuses on human origins and lithic technology development in East Asia, he also is well versed in lithic studies in the New World. Dr. Shen joins the project this year to assist with the study and cataloging of the lithic material from the site. With his assistance we hope to determine if stone tool production was occurring at the site or nearby, and to identify tools suitable for more in-depth use-wear analysis that might shed more light on the quotidian activities of the city.
---
---
Previous Graduate Students and Staff Members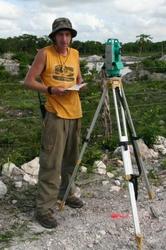 Alec McLellan

Alec finished his Master's degree at Trent University in 2012. He obtained his B.A. from Trent University Oshawa where he studied archaeology with Dr. Haines who poached him from the History Department. His work at Ka'Kabish centred on surveying and mapping the settlement zone around the core. He is the tallest and the palest of the group both of which are a bit of a disadvantage in Belize. Every year he turns a lovely red shade thanks to the Belizean sun and cannot seem to get pants long enough to protect his ankles from the bugs. The guys on his crew have nick-named him "langosta". He is currently working for a CRM firm in Ontario to earn money to pursue his doctorate degree.
---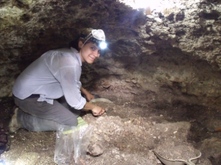 Toni Gonzalez
Operation Supervisor

Toni Gonzalez completed her MA at California State University, Los Angeles where she worked with cave archaeologist, Dr. James Brady. Her MA thesis focused on the ritual connotation of chultuns in the southern Maya lowlands, primarily in Belize. She spent the 2012 field season excavating a chultun in Group B and excavated another chutlun in Group C during the 2013 and 2014 field season. Her other interests include cave utilization and burial practices among the elite and commoners. The mosquitoes in Belize seem to love Toni's blood and tend to leave her scarred for six months after the field season.

---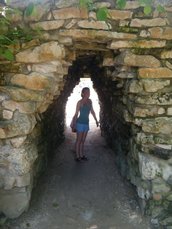 Alice Gomer

Alice graduated from University College London, England in 2011 with a BA in Classical Archaeology and Classical Civilisations. She is currently studying for a MA in Archaeology at UCL under the direction of Dr. Elizabeth Graham and is focusing on the Formative to Early Classic ceramic inventory at Ka'Kabish for her thesis. Alice participated in the project in 2011 and 2012, before which she excavated at the site of Marco Gonzalez, Ambergris Caye, Belize. While she generally adapted quite well to life in Belize the lack of Vegemite proved a trial, a craving the rest of her Commonwealth companions couldn't understand.
---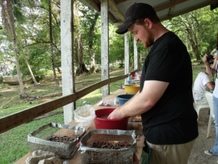 Erik Jamik
---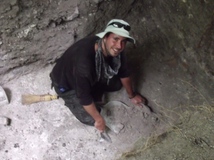 Joshuah Lockett-Harris

Joshuah Lockett-Harris is completing his M.A. programme at Trent University. His thesis focused on excavations into the Group D plaza looking the earliest occupations of Ka'kabish and the rise of kingship. He worked previously in Peru before discovering that the food, if not the archaeology, is better in Belize.
---
---
Students and Volunteers (2014)
---
Previous Students and Volunteers
Amanda Sinclair (2012, 2013) - Trent University Oshawa
Carolyn Hill (2013) - Trent University Peterborough
Darren Cliff (2013) - Trent University Peterborough
Elton Fernandez (2013) - University of Toronto Mississauga
Geoffery Chappell (2013) - McGill University
Kelsey Friesen (2013) - University of Calgary
Kweku Williams (2013) - Northern Illinois University
Madeline McCaffery (2013) - Trent University Peterborough
Nicole Davis (2013) - Trent University Peterborough
Roger Catipon (2013) - University of Winnipeg
Alex Gonzalez (2012) - University of Buffalo
Karen Pierce (2012) - University of Colorado, Boulder
Joshuah Lockett-Harris (2012) - University of Toronto St. George
Susan Demarker (2011) - University of Toronto
Brittany Mello (2011) - University of Toronto
Christina Pitre (2011) - University of Calgary
Laura Heath (2010) - Wesleyan University
Zack Simms (2010) - SUNY Albany