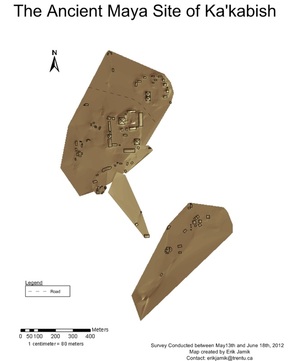 Ka'kabish was first documented by Dr. David Pendergast in the 1980s while he was working at the nearby site of Lamanai. At the time, the road between the two sites was a rough logging road and the trip took over two hours. In the 1990s, the grading of road between Indian Church Village (where Lamanai is locacted) and the town of San Filipe not only bisected the site (destroying at least one building in the process) it also opened the site up to extensive looting.

In the mid-1990s, a team of archaeologists from the Maya Research Program, based in the Blue Creek Mennonite community, visited the site and produced a rudimentary site map (Guderjan 1996). This map documented 27 structures arranged in two loose clusters – on to the north and the other to the south of the road. Based on its small size it was initially envisioned as having been a secondary political centre, serving as an administrative outpost of the larger site of Lamanai a scant 10 km to the east.

KARP began investigations at the site in 2007 with a remapping of the southern portion of the site (now Group D). Over the next few years it quickly became evident that the site exceeded the initial structure count and to date the project has mapped over 90 structures in eight groups.

Excavation work at the site started in 2010 and has continued every year since. This work has revealed that that Ka'Kabish enjoyed a long history of occupation. Starting in the Middle Formative period (ca. 800-600 BC) the site lasted into the Terminal Classic period (ca. AD 900-1500). Although we are still working to resolve the final date of occupation the most recent evidence from burials south of the site suggest that occupation lasted until the 15th century, approximately 2,300 years of history.

Moreover, contrary to initial expectations that envisioned Ka'Kabish as a secondary administrative centre, part of the polity ruled by Lamanai, this research has shown that Ka'Kabish was a dynamic and autonomous city for most of its history.​

Site reports are available for download on our "Publications & Reports" page.
---
A brief history of research at Ka'Kabish​